Our specialization
Today UARM offers its customers a wide range of goods and services.
The main advantage of the plant lies
in the high quality of products and services
This is achieved through constant upgrading of technical equipment, the introduction of new technologies and the continuing professional development of our engineers and specialists.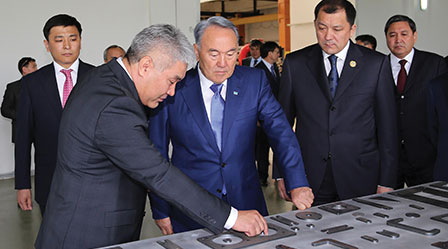 Modern production
In the period from 2010 to 2012 the plant was a complete redesign, including the modernization of all plants, hot dip galvanizing line is reconstructed, renovated park of process equipment for a complete certification of employees of the plant.
---
Blank Production
Cutting blanks is carried out on the installation of mechanical cutting machine company «MAIKO», Germany. Cutting accuracy of 0.1 mm occurs without thermal effects on the cutting surface, which has a positive effect on the welding process. It is also used plasma cutting company «ESSER», Germany.
Metal Cutting Production
The plant is equipped with automated metal-cutting equipment, including computer-controlled, allows to produce components and spare parts, requiring complex machining.
Painting Production
Introduced paint systems produced in Germany with the blast surface preparation for painting, painting in electrostatic complex environment. They provide high-quality color products with protective decorative properties.
Assembly Production
All product assembly plant is carried out automatically using a special high-tech equipment from Italy, USA, Russia and Germany, with the full supervision of the chief engineer.